NEXT WORKSHOP
14 – 20 Août 2022
Douelle (Lot) France
FR // 6 jours de stage photographique intensif, avec hébergement et découverte de la cuisine du terroir. Encadrés par Stéphane Charpentier, les participants recevront un soutien technique et artistique, et seront encouragés à développer un langage photographique personnel, intime, et sensible.
EN // 6 days of intensive photographic workshop with accommodation + discovery of regional gastronomy. Accompanied by Stéphane Charpentier, participants will receive technical and artistic support, and will be encouraged to develop a personal, intimate, and sensitive photographic language.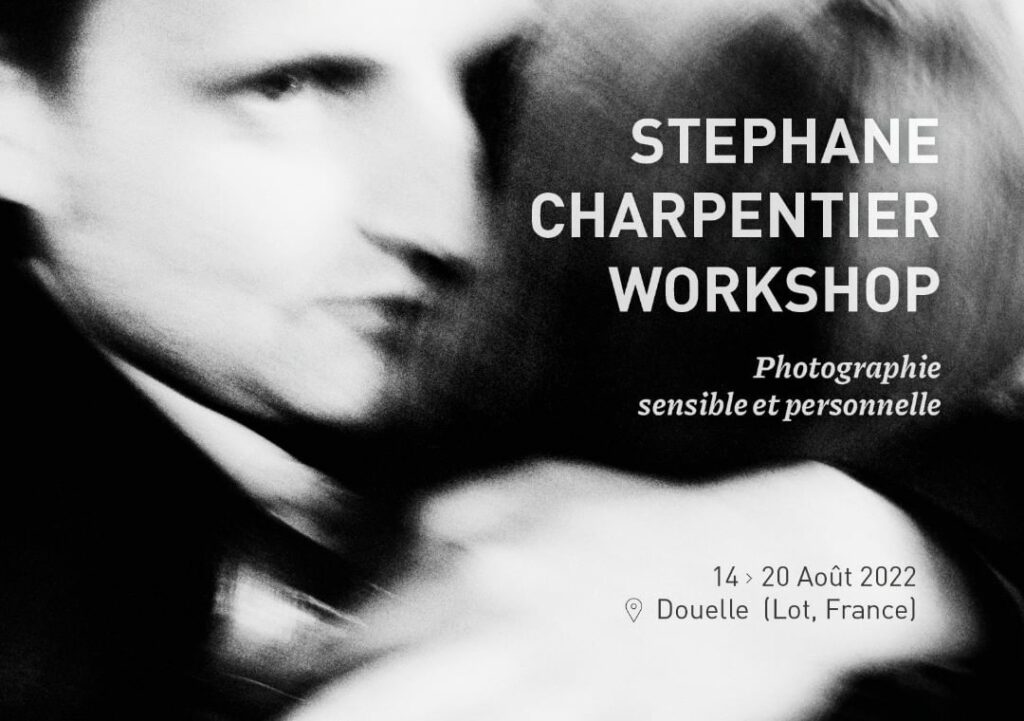 Infos : http://urlz.fr/i75D
Inscriptions : associationchezjeanne@gmail.com

2023 / Workshop image et son / ÉCOLE SUPÉRIEURE D'ART ET DE DESIGN / SAINT-ETIENNE (à venir)
2022 / Workshop Chez Jeanne / DOUELLE (à venir)
2022 / Atelier CMP LIMOUX / LIMOUX (avec Graph CMI)
2022 / Workshop MFR MONDY / VIEL AUDON, BALAZUC
2021 / Atelier autour du film photographique / Festival LES NUITS PHOTO, PARIS
2021 / Workshop MFR MONDY / VIEL AUDON, BALAZUC
2020 / Workshop MFR MONDY / VIEL AUDON, BALAZUC
2019 / Workshop TEMPS ZERO / BUCHAREST (with UNARTE, University of Fine Arts)
2019 / Workshop TEMPS ZERO / ATHENS / workshop + performance
2019 / Workshop MFR MONDY / VIEL AUDON, BALAZUC
2018 / Workshop TEMPS ZERO / ATHENS / workshop + performance
2018 / Workshop ARTISTS@WORK / ATELIERS VARAN / PARIS / 3 sessions of one week
2018 / Workshop ARTISTS@WORK / ATELIERS VARAN / TUZLA, BOSNIA / 2 sessions of one week
2017 / Workshop MFR MONDY / VIEL AUDON, BALAZUC
2017 / Workshop TEMPS ZERO / BERNAC / workshop + performance
2016 / Workshop MFR MONDY / VIEL AUDON, BALAZUC
2016 / Workshop ESPACE ST CYPRIEN / TOULOUSE
2015 / Workshop MFR MONDY / VIEL AUDON, BALAZUC
2015 / Workshop ESPACE ST CYPRIEN / TOULOUSE
2014 / Workshop MFR MONDY / BOURG DE PÉAGE